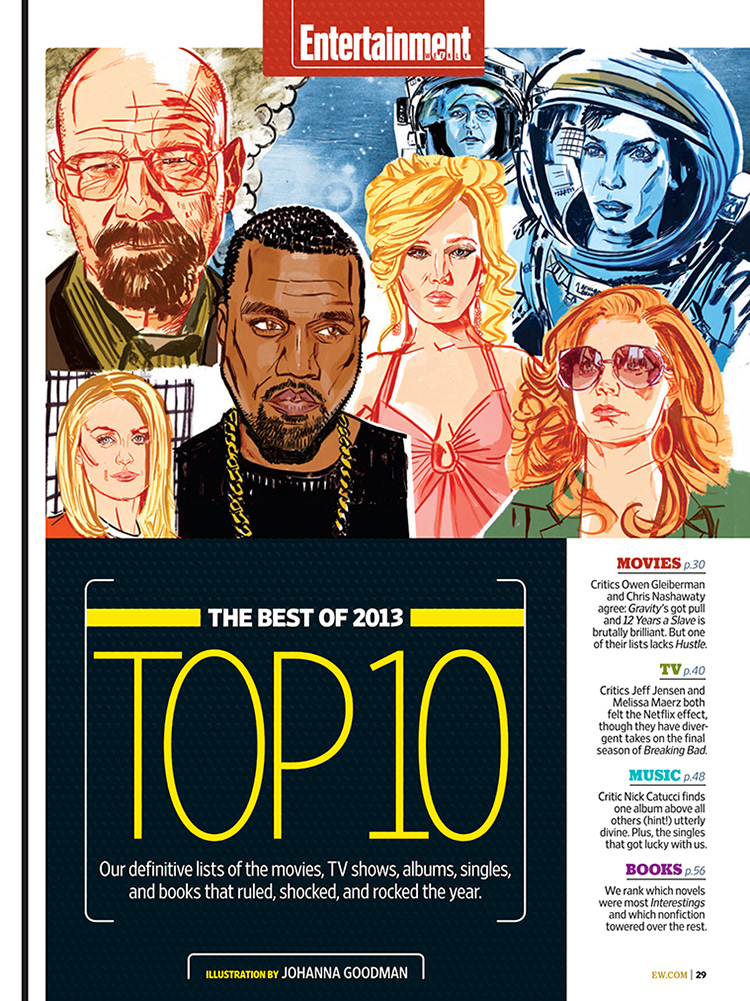 For a special, year-end issue, Entertainment Weekly decided to run a series of Top 10 lists for the best movies, TV, music and books of 2013. A pretty straightforward format, but a terrific opportunity to work with some amazing illustrators (many of whom I've known, respected, and worked with for years) who then ran wild with their concepts and executions.
Opener illustration by Johanna Goodman
The opener was actually the last piece of art assigned for this package. It was originally intended to be an all-typography kind of thing but it was an underwhleming note to kick off on without any imagery. So I reached out to Johanna Goodman (who was already on board to create a "House of Cards" illustration) and she quickly knocked this out on short deadline. I love how it pulls the reader in and sets up the rest of the package to come.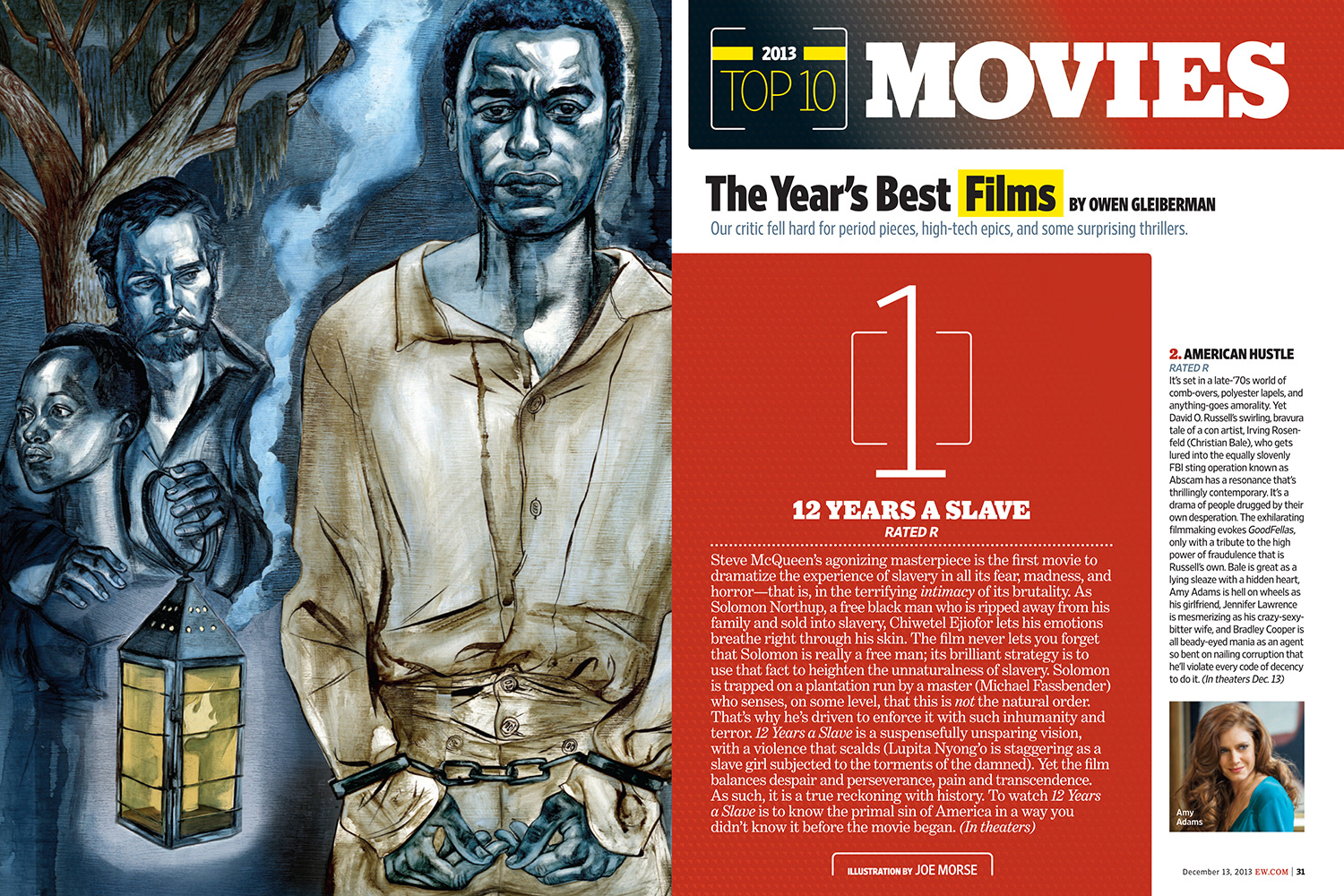 Illustration by Joe Morse

The likenesses are spot on and undeniably painted by Joe Morse, but this piece is all about the overall mood and excellent use of color for me. Heavy and anxious. "12 Years a Slave" went on to win the Oscar for Best Motion Picture that year.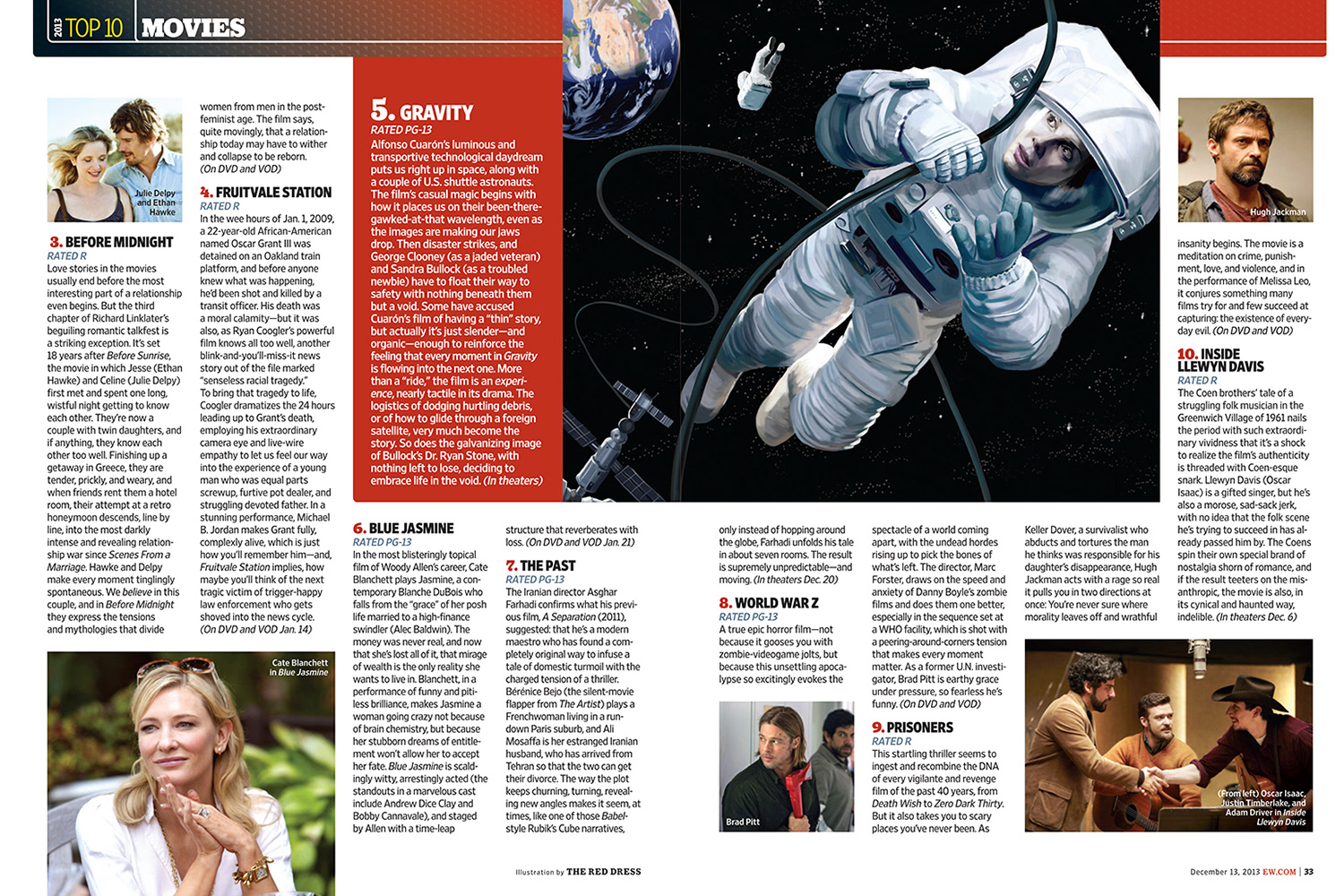 Illustration by The Red Dress

Illustration by Jody Hewgill

When it came to this assignment, I went into it knowing that Jody would make Julie Delpy and Ethan Hawke look really striking and beautiful, but other than that, I had no clue what she would come up with. Needless to say, when her ideas came in, she blew me away! So many great ideas with lots of subtleties and nods to the film. As I recall, we had a pretty great conversation about the number of sharp objects to ultimately go with.

And then her colors…(gasp). Brilliant.

On February 6th, 2015, I was honored to accompany Jody on stage as she accepted her Gold medal from Society of Illustrators for her painting of "Before Midnight." Little did I know that as Art Director of the piece, I would also be given an actual Gold Medal and certificate. Very cool! Thanks to everyone at SI (and of course, the jury) for the award.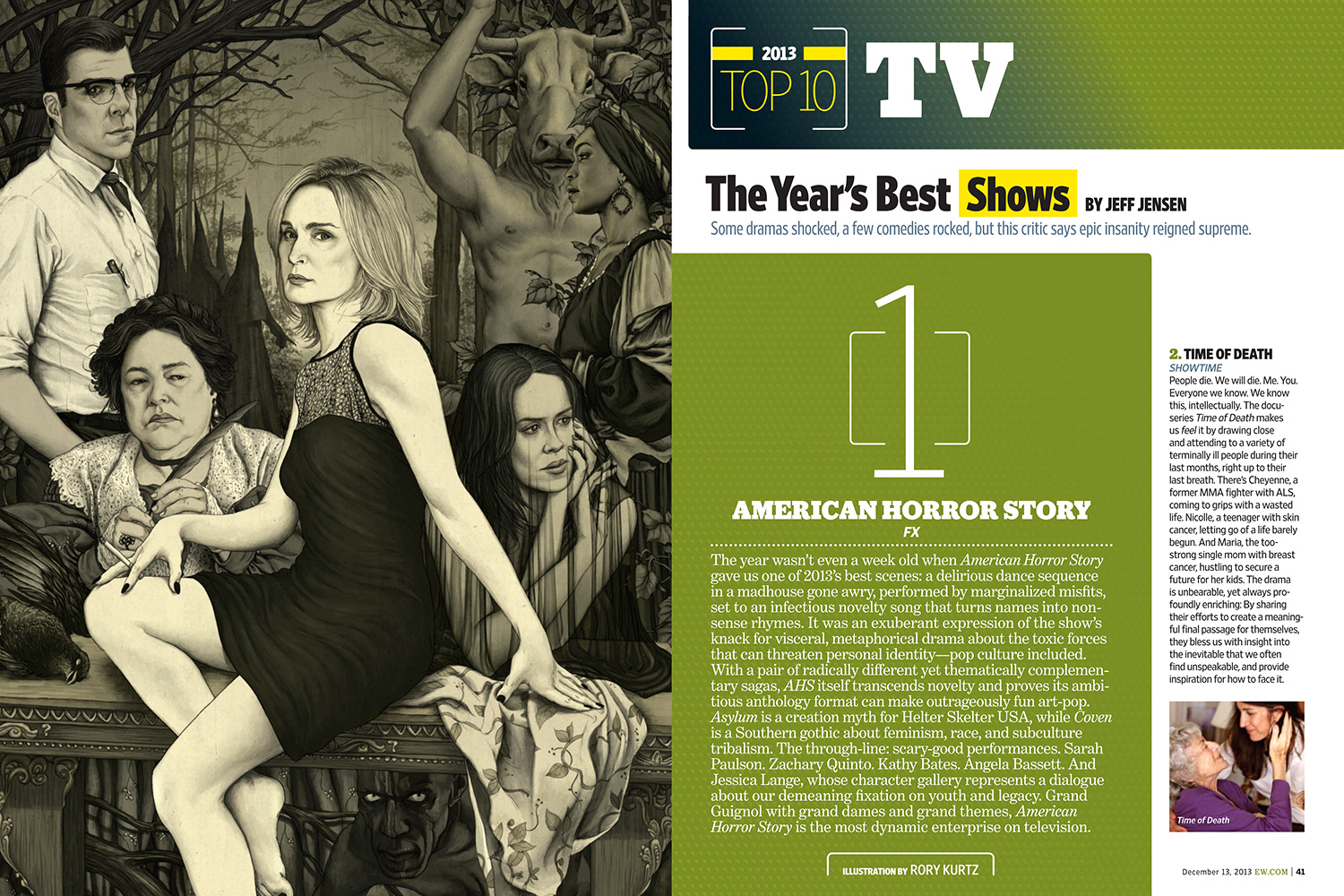 Illustration by Rory Kurtz

Soooo, there was a bit of in-house drama at EW that came along with this illustration for "American Horror Story: Coven". When the initial sketches were originally conceived and executed by Rory (and immediately approved by me) the minotaur in the background was white. It was basically a nameless albino minotaur that was featured in early promotional trailers leading up to the season. Besides just being cool and creepy, it was specifically placed in the background to keep Angela Bassett from falling too far back and getting lost on the page. So we moved onto final artwork.

That was all well and awesome, except unfortuantely, the only minotaur that appeared in the actual show was a black-colored minotaur. Not really an issue to the majority of people out there, but this blew some of the editors' minds. I pointed out that this wasn't meant to be the minotaur character, but simply another oddity to go along with the dude hiding under the table. So I fought and fought and worked my way up the ladder, still arguing my point that we weren't literally portraying a chacter there, but all of my persuasions came up short. Ultimately, we (well, Rory) were forced to darken the minotaur so as not to upset the actor in the minotaur makeup or the show creator. Silly. 

This version is still a pretty amazing showstopper but the albino minotaur version was that much stronger (see below).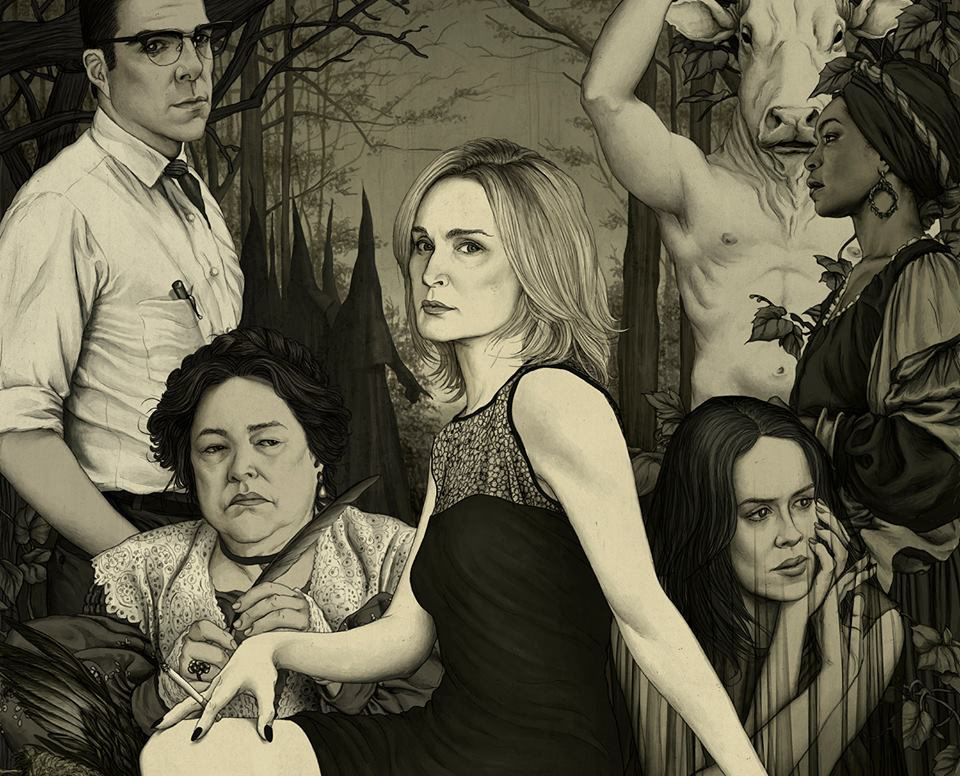 Detail of albino minotaur version.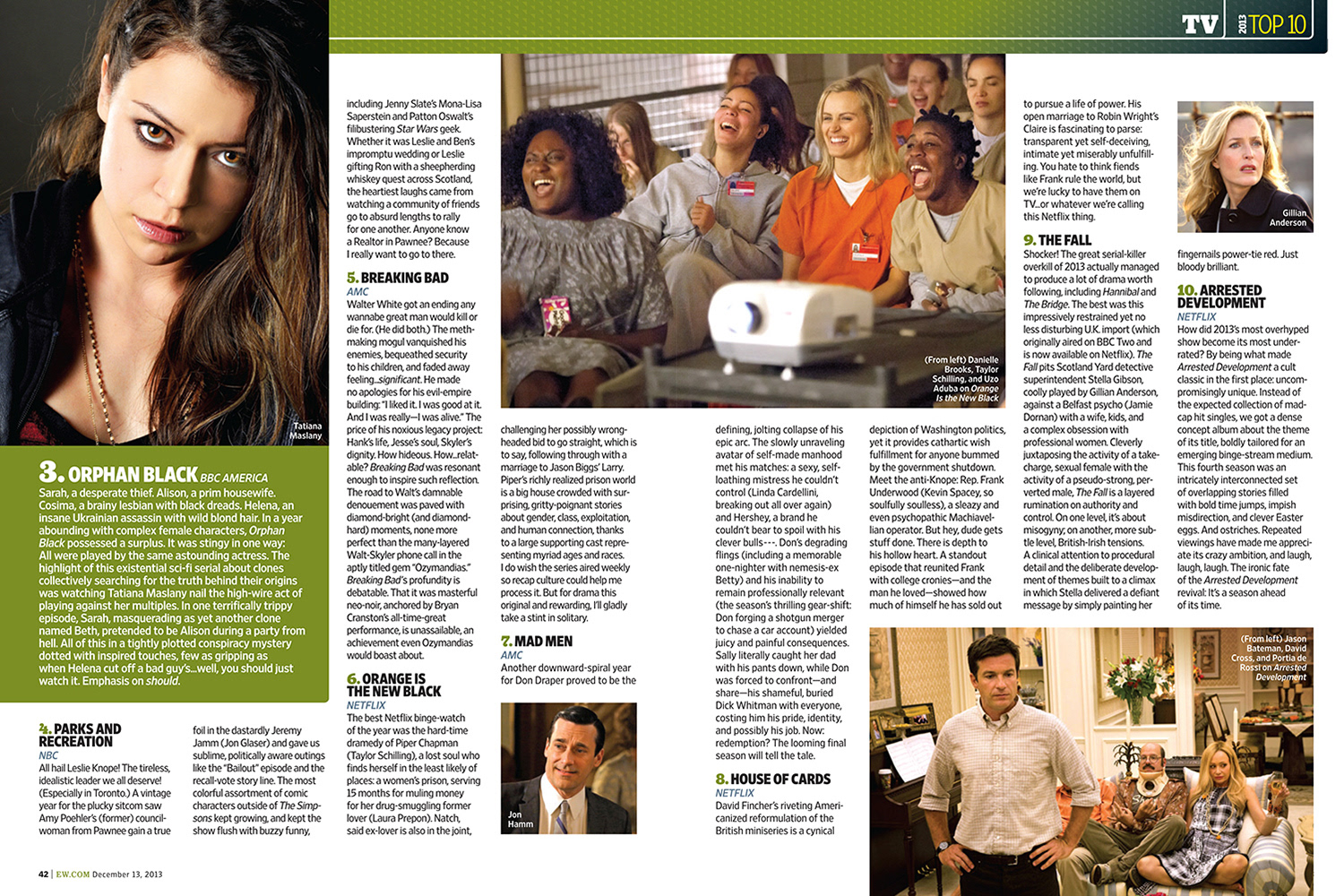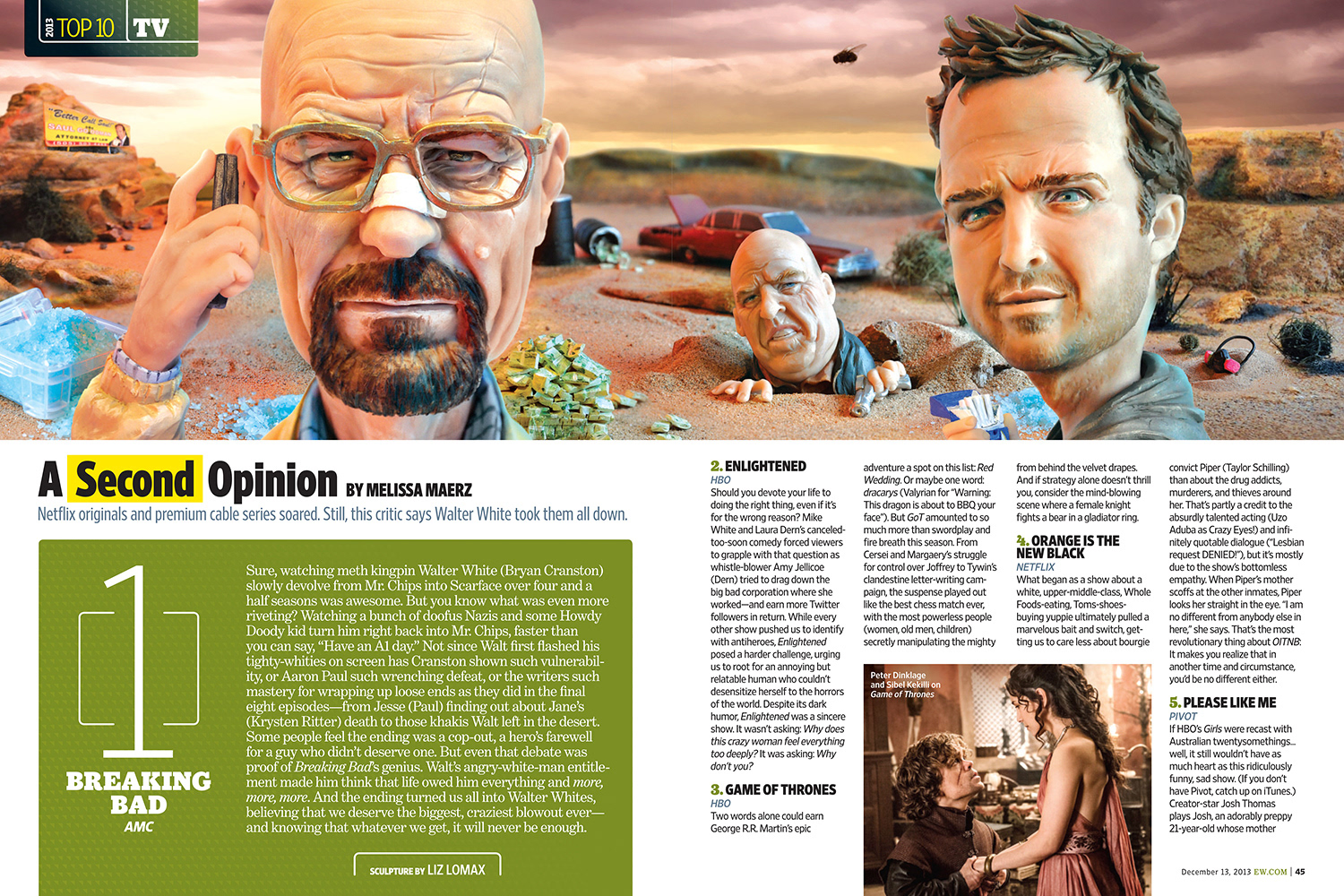 Illustration by Liz Lomax

Liz and I go way back to my days at Rolling Stone. Now there is no question that she a super talent but sometimes its difficult to work her 3D sculpted style into an issue because its so unique. But when dealing with a list issue, which is essentially a recap of the year, I knew I could get away with it. And for my all-time favorite TV show, "Breaking Bad" no less.
I came up with the panoramic format for this but the rest was all Liz. Super detailed and chock full of inside jokes. Note the "Better Call Saul" billboard in the background, along with Jesse Pinkman's pack of smokes and of course, that irritating, unstoppable fly, who was the star of its own episode.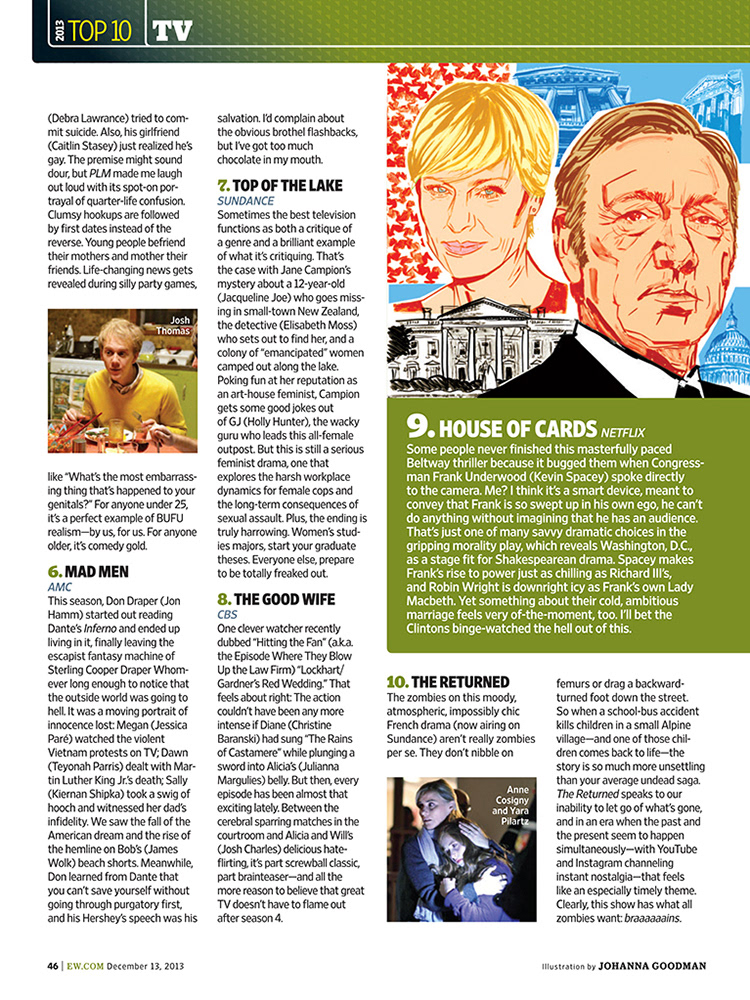 Illustration by Johanna Goodman

Illustration by Rudy Gutierrez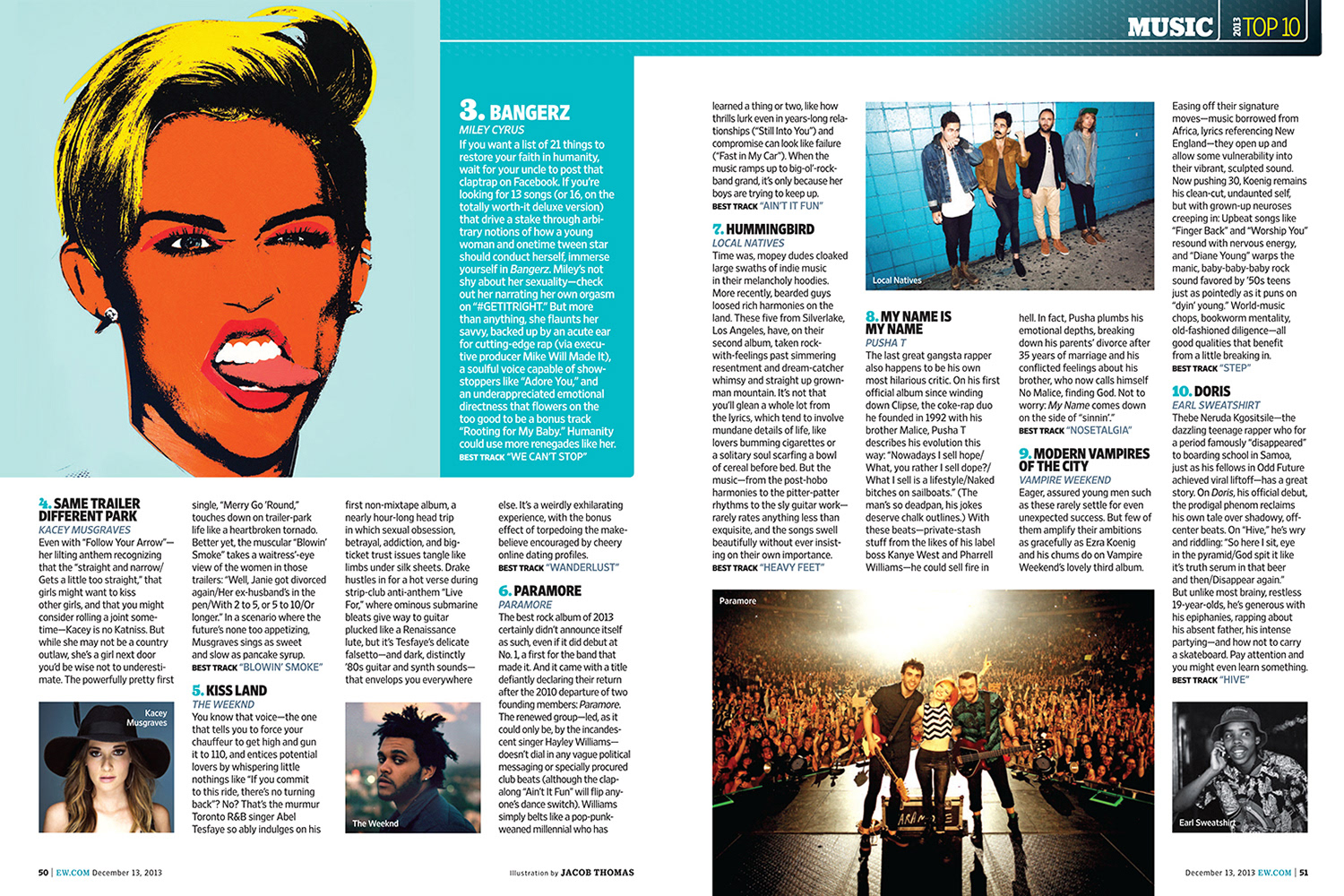 Illustration by Jacob Thomas

I worked with Jacob a lot during my time at EW and he always came through with something strong (often under very tight deadlines). While working with him on a completely different assignment weeks before this list issue was even conceived, Jacob showed me a new technique and style he was playing with—a Warholian silkscreen approach to Miley Cyrus, who at that time, was sticking out her tounge and fielding questions about twerking wherever she went. I didn't have an appropriate use for a Miley illustration at the time but for this Top 10 list it was perfect. I'm glad I got run it.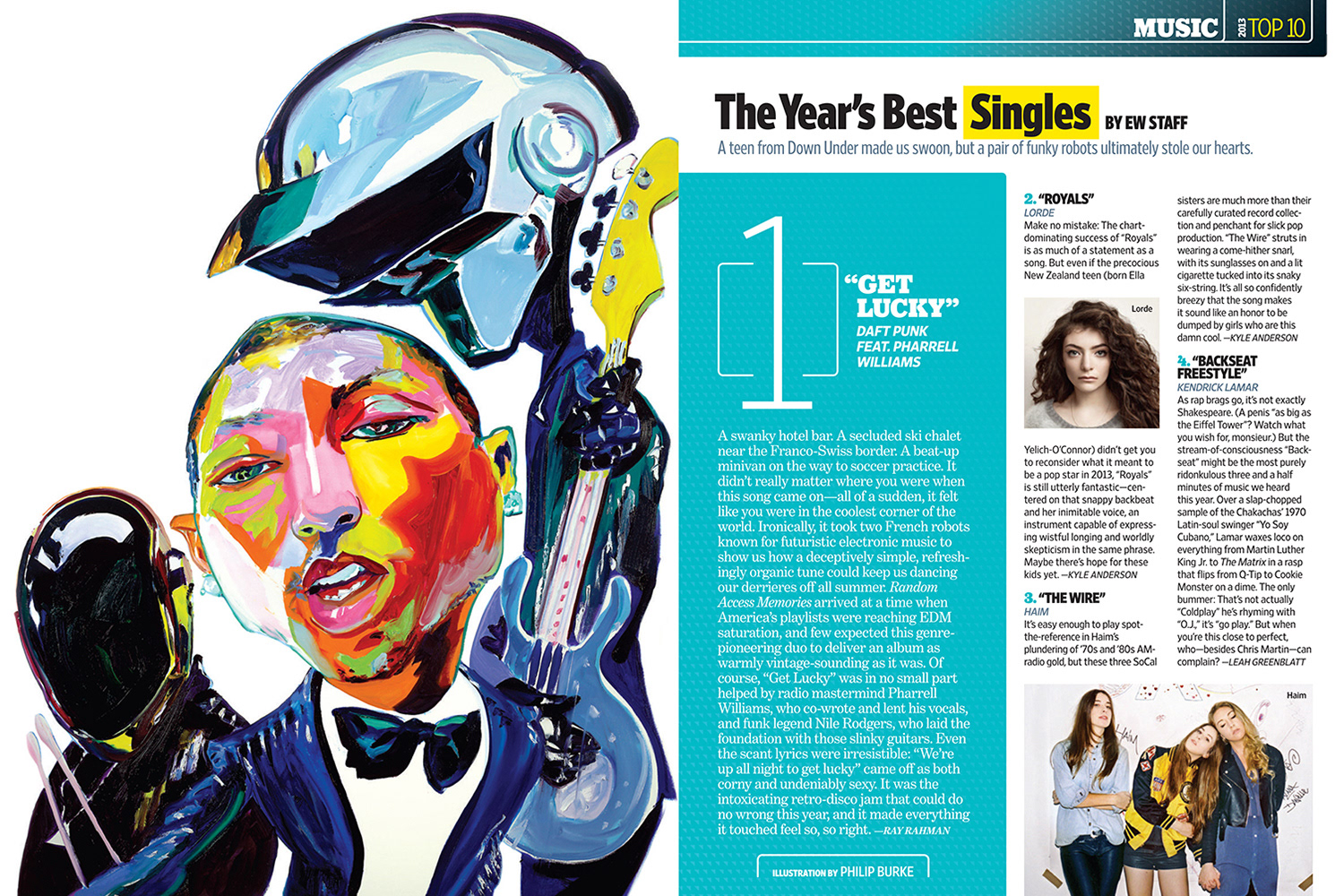 Illustration by Philip Burke

Because we were so used to seeing photos of Pharrel with the robots of Daft Punk, I was particularly keen on seeing the boys painted. And since they're very graphic and nondescript to begin with, I wanted to go more abstract and colorful, which I why I gave Philip Burke the assignment. The master.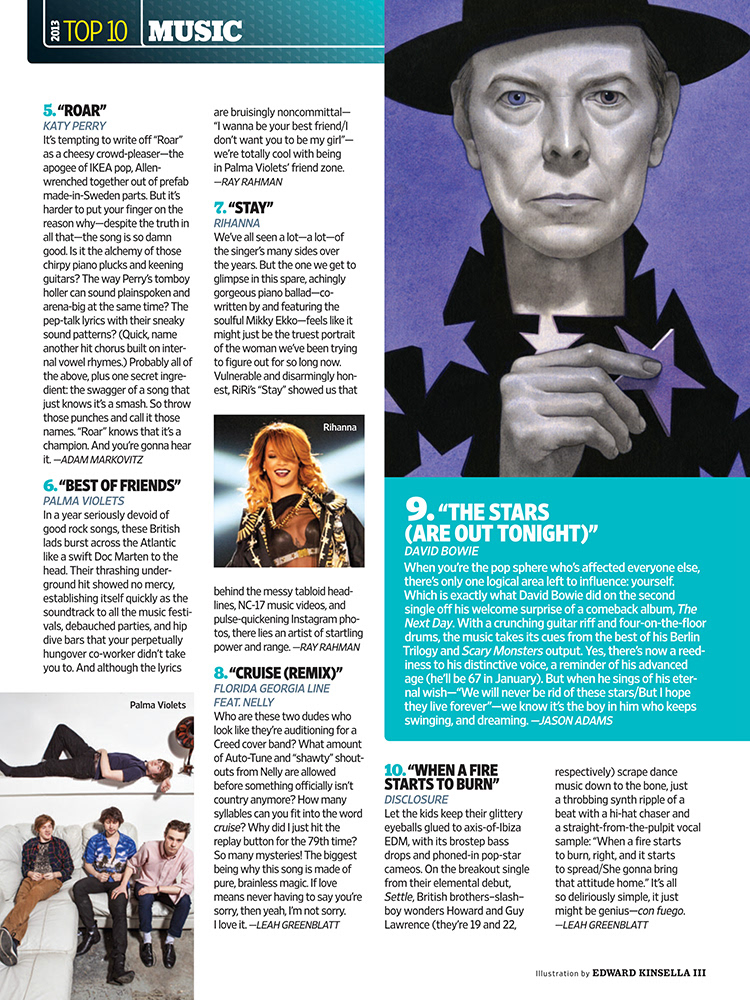 Illustration by Edward Kinsella III

While I lost the battle over the albino minotaur, I did have one huge victory which is this David Bowie illustration. This piece is very personal to me because I am a huge Bowie fan and I consider 

"The Next Day" the best album of 2013 (with "The Stars Are Out Tonight" being my favorite song on the album). Neither the album nor the single made the original Top 10 draft but my incessant badgering (and begging) for Mr. Bowie's inclusion won the day. The single was included at #9 on the list.



Originally, the package was conceived to include only illustrations for the #1 picks in each category, but at this point we reworked the layouts for the package to make room for secondary illustrations, specifically so I could assign a David Bowie illo. 

P.S. I purchased the original artwork from the artist, and it now prominently hangs in my living room as one of my favorite pieces in my collection.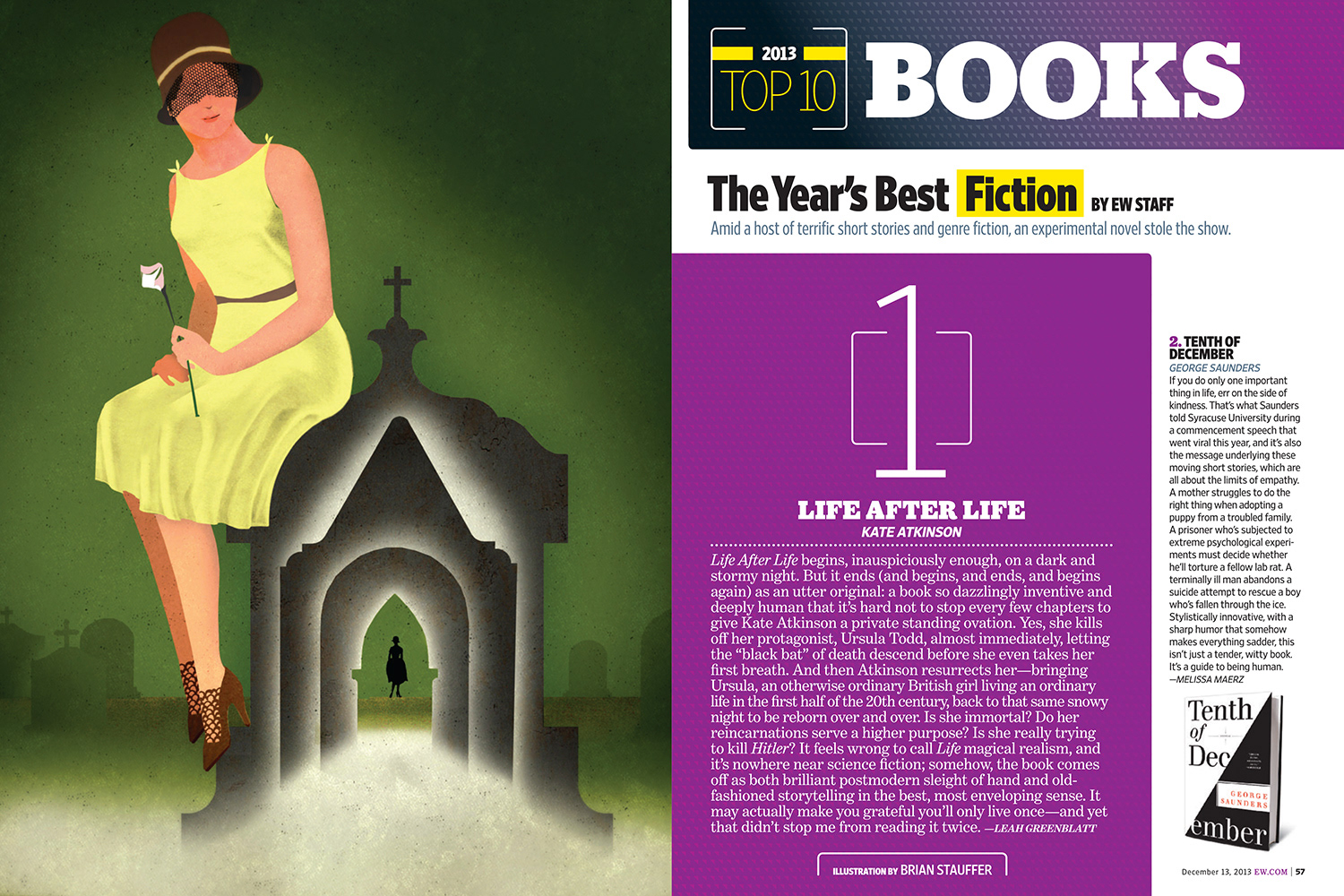 Illustration by Brian Stauffer

Smart. And beautiful. A strong conceptual solution for a difficult, abstract subject.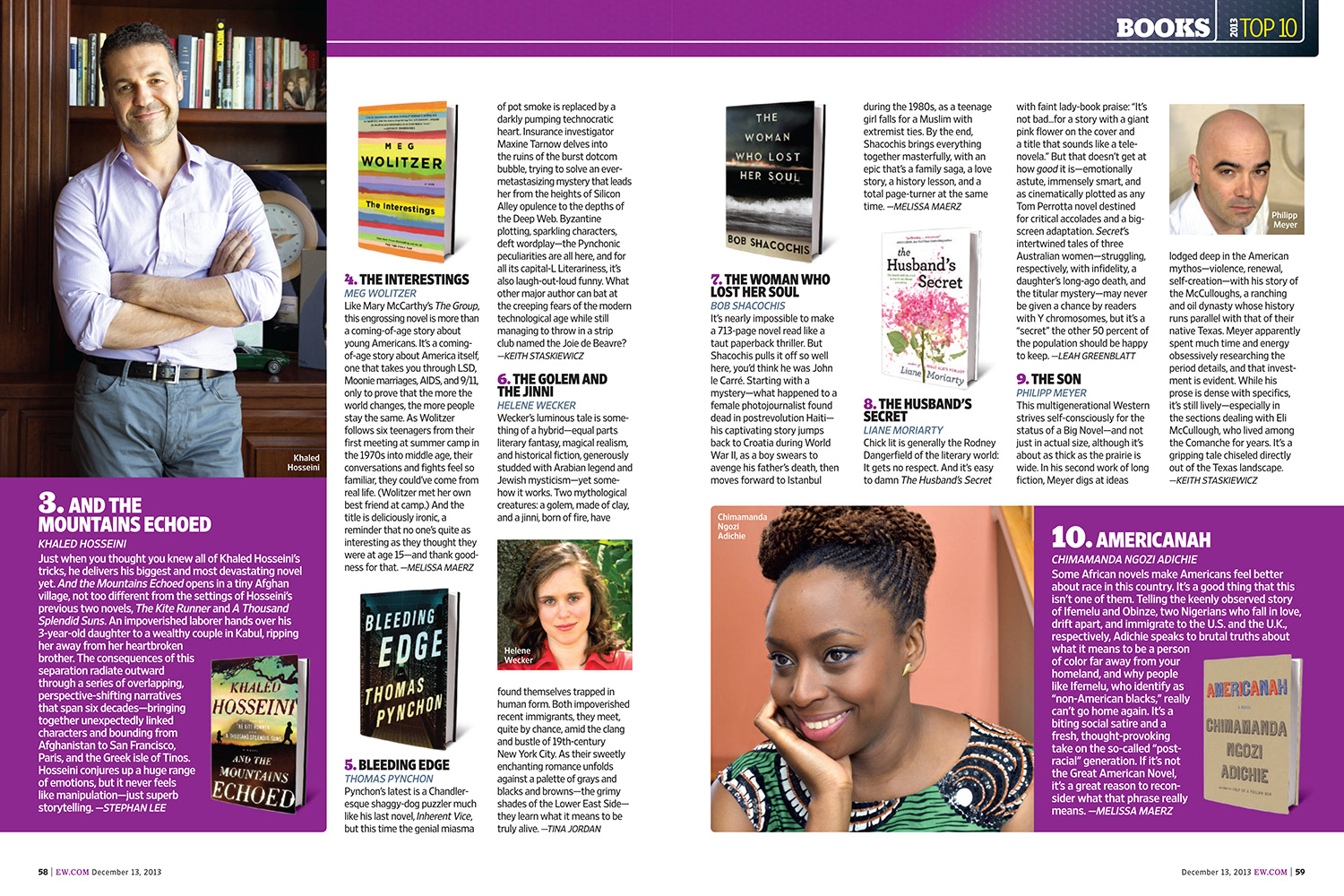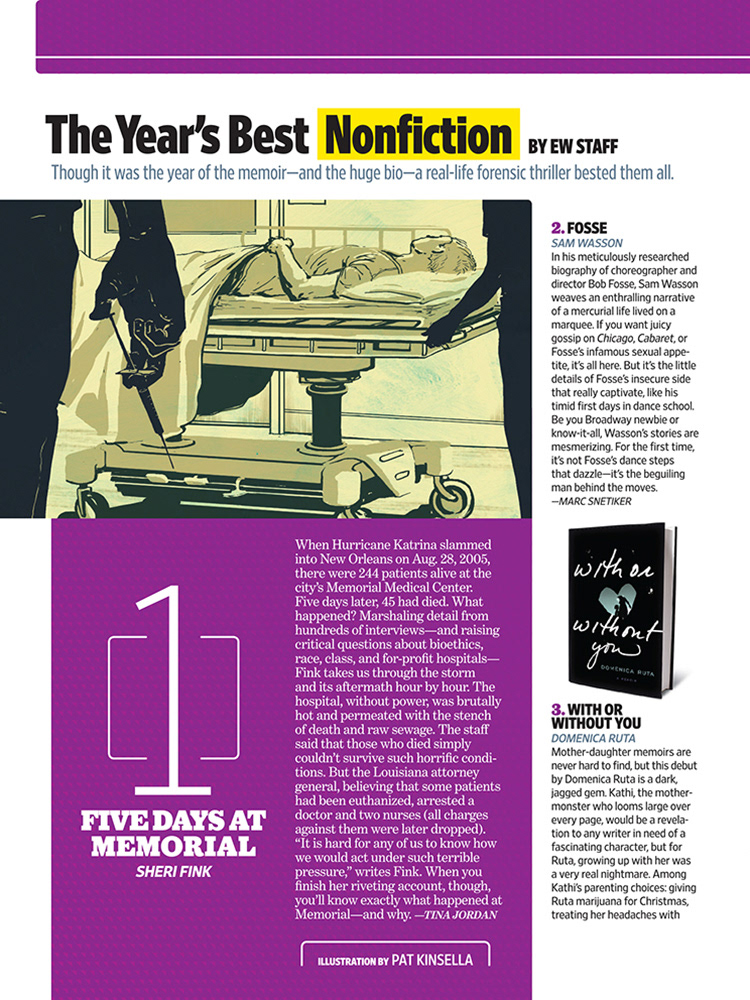 Illustration by Pat Kinsella